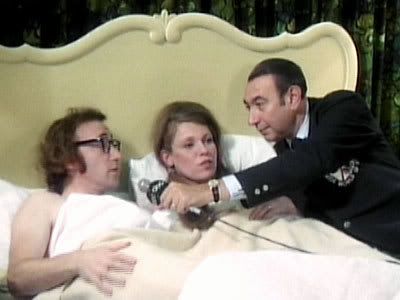 |Classic Film Appreciation|
Bananas (1971)
Directed by Woody Allen
Screenplay by Woody Allen and Mickey Rose
Original music by Marvin Hamlisch
Bananas is the type of comedy Woody Allen was making before his turning point as a filmmaker with the watershed Annie Hall. Films like Take the Money and Run, Love and Death, Everything You Wanted to Know About Sex *But Were Afraid to Ask, Sleeper and Bananas can be thin on plot but rich in gags. The storyline often serves as means to deliver witty one-liners and physical humor, mostly devoid of Woody's trademark psychological introspection which will come to characterize many of his films. This is not to disparage Woody's earlier work in anyway, but rather to recognize the different style of comedies he was making earlier in his career.
Bananas more than delivers on its promise as a clever, madcap comedy laden with a series of hilarious comedic pieces. Fielding Mellish (Woody Allen) is a bumbling products tester really going nowhere in life. We see him test an absurd piece of office exercise equipment and can't help but to laugh. Answering the phone, opening a drawer and rocking back on a chair are all connected to either weights, springs or some sort of resistance training. To top it off, a filing cabinet serves as basketball hoop and each time Mellish makes a basket a new ball shoots right back at him, usually unexpectedly. Other gags include Mellish in the embarrassing ordeal of buying a pornographic magazine, Mellish in a zany silent-movie type vignette standing up to two muggers on the subway (A young Sylvester Stallone included) and courtroom scene in which Mellish plays both witness and attorney.

Mellish quickly becomes infatuated with Nancy (Louise Lasser, a former Mrs. Woody Allen), a student and political activist. Nancy is pretty, easy-going and unassuming—much like Diane Keaton. Mellish's relationship with Nancy is not as in-depth as relationships in Woody Allen's later comedies, but we can see bits of interaction and wry dialogue that will come to characterize many of his romantic comedies:
Nancy: Have you ever been to Denmark?
Fielding Mellish: I've been, yes... to the Vatican.
Nancy: The Vatican? The Vatican is in Rome.
Fielding Mellish: Well, they were doing so well in Rome that they opened one in Denmark.
There is also some of the wonderful direct and honest type of dialogue Woody is known for that is in pictures like Annie Hall and Manhattan. Consider this scene in which Nancy and Fielding first meet:

Nancy: May I ask... what do you do?
Fielding Mellish: I'm a products tester for a large corporation. I make sure products are safe and practical. Today I tested an exercise machine, and an electrically warm toilet seat for cold days.

The scene quickly shifts to the fictional South American country of San Marcos which is in political turmoil. Mellish ventures to San Marcos because Nancy broke up with him because she didn't think he cared for the same things she did and viewed him as a clown. Mellish goes to San Marcos to "check out the scene" and perhaps impress Nancy with his newfound political consciousness.
The San Marcos portion of Bananas is without a doubt the highlight of the picture. At the onset of the film we're treated to a wide world of sports-like broadcast of the assassination of South American dictator by the colorful and entertaining Howard Cosell (In fact, the film is book ended with Cosell broadcasts).
Howard Cosell: This is tremendous, Don, just tremendous. The atmosphere heavy, uncertain, overtones of ugliness. A reminder, in a way, of how it was in March of 1964 at Miami Beach when Clay met Liston for the first time and nobody was certain how it would turn out. The crowd is tense; they've been here since ten this morning. And... and I think I see... the door beginning to open. El Presidente may be coming out. The door opens. It's he... it's El Presidente waving at the crowd. A shot rings out! He turns... he runs back toward the building, trying to get in. This crowd is going wild. He's caught in a crossfire of bullets. And down! It's over! It's all over for El Presidente!
Mellish quickly gets an audience with the president of San Marcos who mistakes him to be a prominent American intellectual. They dine together and the president and his men comically stick Mellish for the bill which Mellish disputes with the waiter. The president of San Marcos rules with an iron fist and demands contributions from his people—namely his weight in horse manure. It's not long before Mellish fortuitously falls in with a group of rebels bent on overthrowing the dictatorship. The funniest scenes involve his "military" training, ordering hundreds of items from a local diner and the best scene in the film—Mellish knocking out both his allies and a government agent with sodium pentothal and trying to prop them up against a car to avoid the suspicion of a nearby police guard.
In discussing Bananas I would be remiss without the acknowledging the contribution of composer Marvin Hamlisch (Take the Money and Run). Hamlisch's soundtrack is light-hearted, upbeat, funny and at times quite beautiful (closing credits). The standout track being the main title's "Quiero La Noche" performed by the Yomo Toro Trio. It's an addictive blend of comedic music, beautiful Spanish lyrics and intervals of gun shots set to the title sequence.
Bananas is not Woody's most ambitious film nor his most introspective, but it is worth seeing because it is really a lot of fun. Also, it's interesting to chart the progression of Woody's artistry from the pseudo-documentary Take the Money and Run to Bananas to the vignette approach of Everything You Always Wanted to Know About Sex to the slapstick Sleeper to the period comedy Love and Death – all leading up to his artistic turning point with Annie Hall. All these films are very funny and valuable to understanding the evolution of Woody Allen the filmmaker.
Bananas main titles- "Quiero La Noche" by the Yomo Toro Trio, music by Marvin Hamlisch